The Indian team is currently ranked number two in ODIs only behind England who are coincidently the host of the 2019 cricket World Cup. India is being considered as one of the favorites to win the tournament.
Playing a World Cup is every cricketer's dream and from the current team, many players like Ambati Rayudu, Jasprit Bumrah, Kuldeep Yadav, Hardik Pandya, and Yuzvendra Chahal will be playing their first one.
Experience counts in the World Cup as there is no room of any mistakes, one mistake and it can be the end to a World Cup dream. Senior players like Virat Kohli, MS Dhoni, Rohit Sharma, and Shikhar Dhawan have already played at least one World Cup. For Dhoni, this will be the fourth as he was part of the 2007, 2011 and 2015 editions.
Rohit and Shikhar were part of just 2015 World Cup. Virat and Dhoni are the only two members in the current squad who were part of the victorious 2011 World Cup team.
For many players, this might be their last edition as they might not be able to continue their form or be able to stay fit till the next to next World Cup in 2023 that India will be hosting.
Let us look at the Indian players for whom this could be the last World Cup.
#1 MS Dhoni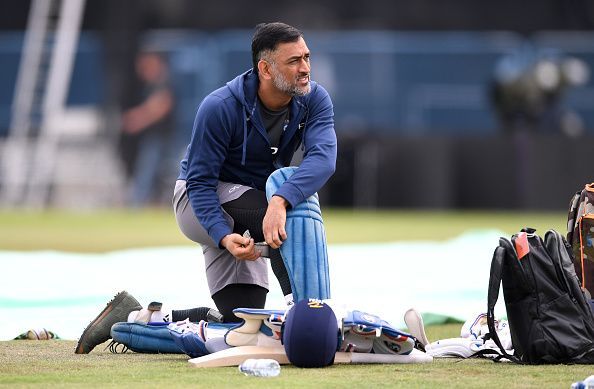 MS Dhoni already has been a part of three World Cup. He captained India in 2011 and 2015 World Cup.
He has been a great player for Indian Cricket. Under his captaincy, Indian won all the three ICC Trophies – the World T20 in 2007, ODI World Cup in 2011 and Champions Trophy in 2009. He has been one of the best wicket-keeper batsmen in the shorter format. He is most likely to be a part of the Indian ODI team till the 2019 World Cup and might retire after that. He has already retired from the Tests in 2014, and in T20s he was not a part of the squads for the series named against West Indies and Australia.
It is very likely he won't be a part of the 2020 World T20 squad.
#2 Shikhar Dhawan
Shikhar Dhawan has been a brilliant opener for India in ODIs. He was the highest run-scorer in the both 2013 and 2017 Champions Trophy. In ODIs, he averages more than 45 and has scored close to 5000 runs, including 15 hundred and 25 fifties.
He had a decent 2015 World Cup where he scored 2 hundreds. He, along with Rohit Sharma, will be key for India in the upcoming World Cup as India heavily depend on their top order.
In the Asia Cup 2018, he was the highest run scorer of the tournament. But in the recent series against the West Indies, he couldn't convert the starts to a big innings. He will be looking to get back to his form in the upcoming Australian series which starts later this month.
He is already close to 33, and is very likely he might not play till the World Cup in 2023.
#3 Ambati Rayudu

Ambati Rayudu hasn't got many opportunities to play for India. It is very astonishing to see that he averages more than 50 in ODIs and has just played 40 odd ODIs. He has 3 hundred and 9 fifties in ODIs. In the 4th game against the West Indies in the last series, he scored a brilliant hundred and helped India reach a huge total.
He is an excellent middle-order player as he rotates the strike pretty well and also plays spin really well. He also does not shy to attack the spinners in the middle overs. His consistent performance for India in the Asia Cup 2018 and the last West Indies have helped him to regain the number 4 spot in the ODI team.
He is most likely to be India's number 4 in the upcoming World Cup.
He is already more than 33 years old, and most likely won't be a part of the Indian side in the
#4 Dinesh Karthik

Dinesh Karthik made his debut for India in 2004 and till now has just played only 86 ODIs. One of the main reason has been, India never required a wicketkeeper once MS Dhoni took over as one. Even in the current ODI squad, he is playing as a batsman and not as a wicketkeeper.
He is likely to be a part of the ODI squad for the World Cup but it is still uncertain whether he will get a spot in the playing eleven. He is already over 33, and most likely it will be his last World Cup.
#5 Kedar Jadhav
Kedar Jadhav, if fully fit, is likely to be a part of the Indian team for the next World Cup in 2019. Indian needs someone who can bat at number 6 and also give some overs with the ball, Jadhav fits that role perfectly.
Many times he has picked crucial wickets for India. He has 22 wickets to his name at an economy of just 4.86. With the bat, he averages more than 42 and has scored 2 centuries and 3 fifties. With a strike rate of almost 108, he is someone who can play the role of the finisher.
Kedar is already close to 34, and it is most likely for him too that it will be his last World Cup.
Other senior players like Virat Kohli and Rohit Sharma are currently 30 and 31 years of age, it will interesting to see whether they will be able to continue their form and fitness and be a part of the next World Cup.